Hera

Biographical Information
Real Name:
Hera
Goddess:
Queen of the Gods

Goddess of Marriage
Goddess of childbirth
Goddess of the Sky

Siblings:

Zeus (Brother-Husband)
Poseidon, Hades (Brothers)
Demeter, Hestia (sisters)


Husband:
Children:
Hepheastus, Ares (Sons)


Hebe (Daughter)

Abilities:

Energy Blast

Character Information
First appearance:
Hercules and Iolas

GALLERY

{{Template:Olympian |race = undefined |home = Olympus |status = Immortal |affiliation = [[Olympus] |species = Gods}}
Queen of the gods and goddess of marriage , childbirth and the sky , she was the Wife of Zeus.
Mythology
Edit
Hera was the wife and one of three sisters of Zeus in the Olympian pantheon of classical Greek Mythology. Her chief function was as the goddess of women and marriage. In Roman mythology, Juno was the equivalent mythical character. The cow, and later, the peacock were sacred to her. Hera's mother was Rhea and her father, Cronus
Description
Edit
Personality
Edit
Vindictive ,
Bitter
Proud .
Physical Appearance
Edit
Hair :Red and Orange
Eyes:Grey
Note:Hera wears a Dark purple Toga .
Abilities
Edit
As the Goddess of Marriage , Womenhood and Child Birth Hera has Domian over Marriage and is a Protectror of Women. As a Goddess hera possess the standard Abilities that are common to the Olympian Gods such as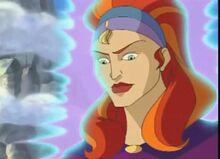 Immortality.
Physical AttributesEdit
Immortality: Hera has the ability to live forever
Superhuman strength :
Superhuman Agility
Magical AttributesEdit
Flight
Materialization
Metamorphosis
Magical Abilities
Energy ManipulationEdit
Appearance
Edit
Season One
Edit
Season Two
Edit
Paraphernalia
Edit
Hercules and Iolas
Edit
The Labors of Hercules
Edit
Hercules and the Golden Apples
Edit
Hercules and the Titans': The Last Battle
Edit